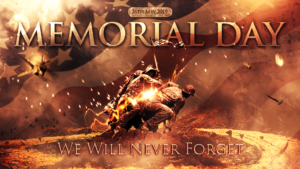 May 18
Join us this coming Sunday morning at 11:00 as we remember and honor those who have given their lives in sacrifice for our country and freedom.
June 2
On Sunday morning, June 2nd, we will have our Move Up Sunday for those kids who will be moving up into a new Sunday school class.
June 10-14
Join us for an exciting week of VBS June 10-14 from 6:00-8:30 for ages 3 years to 8th grade. Our theme this year is ROAR! This epic, African adventure engages the whole herd. At ROAR, kids explore God's goodness and celebrate a ferocious faith that powers them through this wild life. Make plans to be here!